Details
EK-FC1080 GTX Ti FTW3 is a high-performance full-cover water block for EVGA® GeForce GTX 1080 Ti FTW3 graphics cards, based on NVIDIA Pascal™ architecture (GP102). Please check our Cooling Configurator online compatibility system for detailed compatibility list!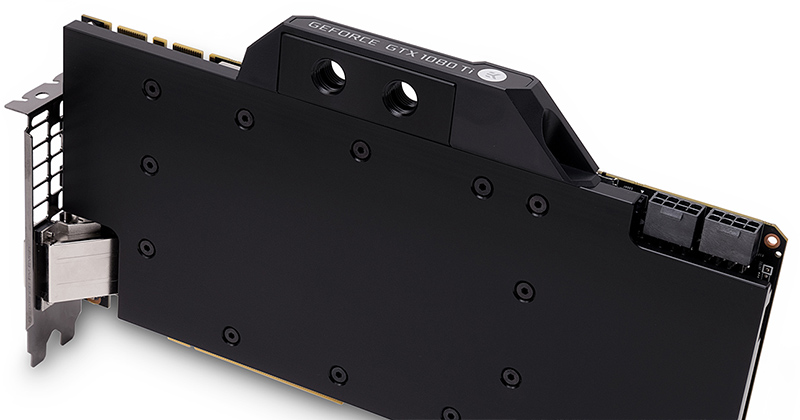 This water block directly cools the GPU, RAM, and VRM (voltage regulation module) as water flows directly over these critical areas thus allowing the graphics card and it's VRM to remain stable under high overclocks. EK-FC1080 GTX Ti FTW3 water block features a central inlet split-flow cooling engine design for best possible cooling performance, which also works flawlessly with reversed water flow without adversely affecting the cooling performance. This kind of efficient cooling will allow your high-end graphics card to reach higher boost clocks, thus providing more performance during gaming or other GPU intense tasks. Moreover, such design offers great hydraulic performance allowing this product to be used in liquid cooling systems using weaker water pumps.

The base of the block is made of electrolytic copper while the top is made of quality POM Acetal material. The sealing is ensured by quality rubber washers. Screw-in brass standoffs are pre-installed and allow for safe, painless installation procedure.
EKWB recommends the purchase of aesthetic retention backplate which improves the looks of your graphics cards and also provides some passive cooling to the circuit board VRM section. The EK-FC1080 GTX Ti FTW3 water block is compatible with EK-FC1080 GTX Ti FTW3 Backplates and the factory backplate as well.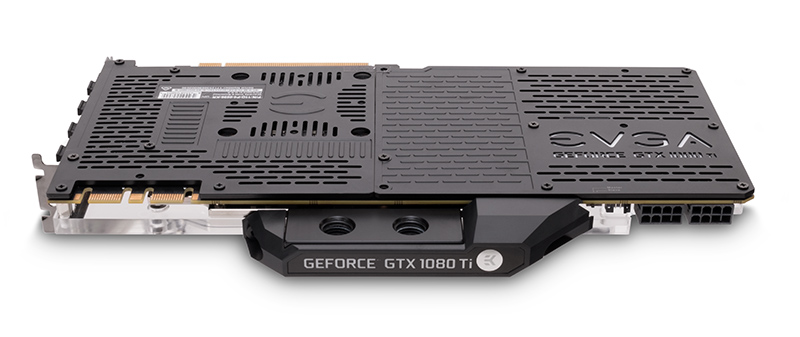 G1/4″ threaded fittings can be used on both sides of the FC terminal. Up to four EK-FC1080 GTX Ti FTW3 water blocks can be used on a single ATX form factor motherboard by using EK-FC Terminal (DUAL, TRIPLE or QUAD type) system or other means of interconnectivity. Please note that the old EK-FC Bridge & Link system is not compatible with this water block.
The block also features a special plastic cover over the block Terminal. This add-on is designed to reveal the graphics card model, visible from the side. The terminal cover is removable, it is fitted with 2 screws from the side.
Enclosed:
– EK-FC1080 GTX Ti FTW3 water block
– Mounting mechanism with screw-in brass standoffs
– Necessary mounting screws, nuts, and washers
– 2x EK plug G1/4"
– 6mm Allen key
– Thermal pads
– Thermal grease EK-TIM Ectotherm (1g)
Made in Slovenia – Europe!
PLEASE NOTE:
Due to an immense variety of fittings/barbs available on the market and no prescribed standards, we guarantee compatibility only for connectors bought from our website.
EVGA® GeForce® GTX 1080 Ti FTW3 factory backplate is compatible with this water block! The stock backplate main portion with the Serial Number sticker on it has smaller screw holes and the mounting screws need to be driven through it. 
New NVIDIA® SLI HB bridges are compatible with this water block. 
EVGA SLI High-Bandwidth bridges are compatible with this water block. 
Check your toolbox if you are missing this special Hex adapter for some of the screws.
Fittings are just for showcase and are not included!
This product should NOT be installed with any aluminum Fluid Gaming parts!
Additional Info
| | |
| --- | --- |
| Material / Design / Color option | Nickel Acetal |
| Threads | G1/4 |
| Chip Manufacturer | Nvidia GeForce |